Welcome To KnowThyself777,
🌺Are You Seeking Spiritual Counseling, To Soothe The Soul, Heart And Mind? 🌺
✨ I AM Sequoia Raye "The Radiant", African Shaman Prêtresse, Mystic Psychologist, Licensed Metaphysical Practitioner and Minister, Whom Spiritually Heals By Embracing The Heart, And Enlightening The Mind With Sacred Knowledge To Empower The 'I AM' Within! ✨
🌹 Introducing Tantric Talk With Sekhmet 🌹
🌹"Lady Of Jubilation, Goddess Of Healing, She Who Is Powerful" 🌹
🍎
Offering Transformative Tarot, And Rune Casting To Understand, Your Spiritual Journey Thus Far, Sekhmet And I Shall To Take Thee, To The Tree Of Life, To Retrieve Sacred Spiritual Knowledge, Healing And Love On Your Behalf. 🍎
🌹 I Possess Over 15 Years Experience As A Spiritual Advisor, Whom Has Successfully Assisted And Advised Thy Brethren, In Traditional And Mystical Spirituality. I AM Educated In Metaphysics, Rootwork, Human Sexuality, Sex, Faery And Ceremonial Magic, And Spiritual Psychology. Mystically I AM Skilled In Tarot, Runes, Numerology, Angelic, Animal, And E.T. Medium. 🌹
Rootwork, Folk Magic, or Southern Hoodoo
"Southern hoodoo, conjure and rootwork are living, African-derived mystical, medicinal and spiritual systems of personal and psychological empowerment. Each system involves the specialized use of botanical, zoological and mineral material medica such as herbs, roots, stones, bones and animal parts that are prepared in a medicinal or ritualistic manner for practical  purposes such as protection, defense, justice, healing, love or wealth. The systems as we know them  today are largely influenced by Native American and Latino Diasporic traditions, as well as European folk magic. That said, Southern hoodoo, conjure & rootwork are African at the root."
-Denise M. Alvarado
📷 Zzyzx Sequoia's Playground 2017 By Sequoia Raye "The Radiant" 📷
🌹
Sequoia Raye "The Radiant" 
🌹
"THE RIGHTEOUS ROOTWORKER"
I AM A Southern Hoodoo Georgian Goddess, Steward Of Ancient Bloodline Of Rootworkers, Shamans, Oracles and Prophets From Ancient Mesopotamia. I AM closely connected to thy ancestors from the red georgia clay, and distant lands of emperors and empresses! I AM divinely gifted and guided with ancestral anointed hands, clairvoyance and intuition, which allows Thee to offer Thy magickal craft in a magickal way, with all facets of life. I have over 15 years experience as a Spiritual Advisor, assisting and advising Thy brethren to achieve their Highest Good, in this lifetime. I AM educated in Herbal Magick, Metaphysics, Spiritual Mind Treatment, Early Childhood Education, Human Sexuality, and Spiritual Psychology.
Learn More About Sequoia's Rootwork 
🍃 Sequoia's Rootwork Recent Reviews 🍃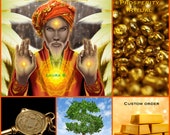 LAURA B. on Apr 25, 2017
5 out of 5 stars ⭐️ ⭐️ ⭐️ ⭐️ ⭐️
I am so thrilled with Sequoia and her services, this Jupiter prosperity ritual was done on 13 th April, and in exactly 7 days like she said I got an improvement in my business, I got clients like never before,phone ringing off the hook,I literally have clients on hold, I've never ever ever had such success in my business, the price for her services are very affordable and so far results coming in quickly,I have absolutely no regrets. Don't hesitate if you want any of her services ,if its not in her listing just ask and she'll do one specially for you. Be blessed your life is about to change,prosperity, growth and success is now yours by divine order.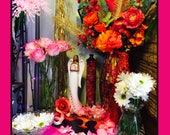 blsc44 on Apr 25, 2017
5 out of 5 stars ⭐️ ⭐️ ⭐️ ⭐️ ⭐️
There truly are not enough words to covey how I feel about this - she has such dignity and personal investment in her work It is amazing to feel, see and hear - she gives you her all and does NOT cut corners I have never been to someone so caring and thorough ! "Our" utmost gratitude to you and your Angels Miss Sequoia ......

 lored19 on May 3, 2017
5 out of 5 stars ⭐️ ⭐️ ⭐️ ⭐️ ⭐️
This meditation was beautiful and amazing. Pure magick!!! So delighted to have crossed paths with Sequoia. Love, love, love.♡
5 out of 5 stars ⭐️ ⭐️ ⭐️ ⭐️ ⭐️
I Specialize in Distant Reiki Sessions for Humans and Pets.

 I offer Magickal assistance to transmute and transform 
all imbalances within the mind, body, heart and soul. 
At a very young age I was able to sooth aches, 
reveal hidden truths and manifest magick upon Earth,
Effortlessy, with just the laying of Thy anointed hands.
"I AM A Light Healer, I Direct Divine Life Force To Flow Through Every Cell And Organ Of Your Body, Balancing And Bringing Forth Brightness, Boldness And Bravery, Know You Possess Divine Energy Within Your Temple!"
-Sequoia 

Thy hands are blessed with the light of
Archangel Uriel "Light Of God" or Earth Angel.
And "Strength Of God" Archangel Gabriel
allows Thee to direct this divine energy
at Thy will and on the behalf of Thy clients.
I AM Protected by Archangel Michael,
Blue Flame Angels, Elohim Bene, and Many More
I choose to implore for Justice, Protection, Defense, And Reconciliation!
Allow thy divine connection with the
Angelic and Spiritual Realm
to assist you with all of life's inquires!
Reiki is a healing and divine life force, which attunes, alleviates and promotes healing energy. Reiki is a natural and gentle healing practice that removes energy blocks from our "chakras (energy centers or vortexes), aura (energy field), and the meridians (energy pathways)". These blockages may be caused by emotional, spiritual, mental or physical stresses and pains. In order for our energy to properly flow, our "Aura receives energy, then our Chakras define and delineate this energy, and the meridians distribute it throughout the body." The Emperor is the Reiki Master he sits upon his throne defining and delineating the four elements, knowing he is not only one with Great Spirit, Spirit is all that he is! Emperor's Affirmation: "I AM the commanding governing presence, that moves before Thee this day, commanding perfect peace and harmony in all Thy activities!"
Defining Reiki:
The word Reiki is made of two Japanese words - Rei which means "God's Wisdom or the Higher Power" and Ki which is "life force energy". So Reiki is actually "spiritually guided life force energy."
Distant Reiki Sessions Disclaimer:
Think Quantum Physics - Time And Space Does Not Hinder Spirit! 
Reiki is not a substitute for traditional Medical treatment, if someone has a serious health imbalance they should see a Doctor or other appropriate professional, and make complementary healing part of a complete health care program. All healing is self healing the practitioner works with the crystals and with other methods to assist themselves and others in facilitating their own healing. Reiki Treatment does not use any tissue manipulation or massage and does not ever involve sexual contact of any kind under any circumstance. Unethical people have been known to abuse other people under the pretext of spiritual , holistic and complementary healing. Such people should be reported to authorities promptly.
Ethereal Enchantments, Alchemy, Divination
I was trained by a wise High Priestress in Faery Magick, and as a Rootworker,
I utiize and create enchanted candles, frames,
crystals, jars, faery finds, herbs, incenses, sigils,
and prayers through Ceremonial Magick.
I commune Clairvoyantly with Thy Angelic, Animal And Ethereal Spirit Guides
Through Thy Third Eye, Intuition, Tarot, Chakra Oracle Cards, And Runes. 

I AM An Ethereal Enchantress,
I AM An Alchemist,
I AM An Archangel Of Fire,
I AM The Magician, 
I AM The High Priestess! 
I AM All Things! 
Codes Of Ethics:
I AM A Master Builder 22!
Reiki, Rootwork And Ethereal Enchantments 
I, Sequoia Brown, African Shaman Prétresse, Licensed Metaphysical Practitioner and Minister shall perform Reiki, Rootwork, or Create Ethereal Enchantments on behalf of Thy clients, after divination consultation has been performed. If we both choose to work with one another, I shall perform these magickal works with the highest intention infused with love and light. I shall consult  Great Spirit, the Universe, Thy Ancestors, Angelic And Animal Spirit Guides on your behalf to direct the divine energy of God  to achieve your highest goal we agree to set and accomplish here on Earth! 
If for any reason I AM not able to assist your with your heart's concern, I shall refer you to a more qualified practitioner. 
Guarantees:
In life there are no guarantees, and this is certainly true for magick, reiki, rootwork, and enchantments. I AM an ethical Licensed Metaphysical Practitioner and Minister, I cannot guarantee you that the magick or enchantments will always work, or whether we shall receive the desired success expected from ceremonies. To elicit such a guarantee would be unethical and demonstrate a lack of understanding of the nature of magick. More importantly, the very nature of your spirit, Free Will. 
Here is what I can guarantee…
I shall perform your ceremony with the Highest Love And Light within the Universe, and I shall summon the divine power you seek to achieve the goals or aims we set. I shall utilize all Thy divine abilities in reiki, rootwork, feary magick, and solomonite ceremonial magick to bring forth manifestation. 
I AM here to prepare you to meet those opportunities which we petitioned during your Distant Reiki Session, Rootwork or Creation Of Your Ethereal Enchantments. 
🔞 Legal Disclaimer: You must be at least 18 years old to purchase this service. This service is being offered exclusively for entertainment purposes. Information provided by this service is not to be substituted for professional, legal and or medical advice. All sales are final.

🔮Psychic Predictions: Sequoia Brown, does not specialize in Predictions. I offer future outcomes as possibilities, which assist Thy clients with how to properly navigate those potentialities. The important factor for this decision is, I honor your Free Will and any relations you bring before Thee. Thank You, OM!
✨📝 Magick Disclaimer: No doctor can guarantee that a treatment or medication will work, no psychologist can guarantee that treatment will resolve the issues, no lawyer can guarantee that they will get the verdict they want. Neither can a conjure doctor guarantee their magick 100%.